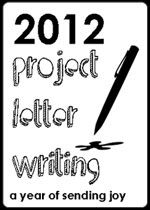 Have you heard of
Project Letter Writing 2012
yet? It was started this month by my friend Linda on her
blog alamodestuff
. Basically driven from her love of stationery she's encouraging others to commit to writing one letter each month of 2012. 12 letters in total no matter how big or small. Totally doable right!? As a lover of all things paper and a stationer myself I've signed up to support Linda's project as well as commit to writing the monthly letters.
Will you join us??? It's easy!
1. Follow Linda's
Blog
2. Write a letter and send it to someone
3. Share it on your blog, Instagram, Twitter, Flickr, whatever site you'd like.
3. Post a link to where you shared it on Linda's
blog
.
That's it! Easy and Linda will be hosting giveaways throughout the year so you might get to win some cool stationery of your very own!
Here's
Januaray's post
. If you share your letter this month Linda will automatically send you a card for your own personal use. There's also a wonderful giveaway to sign up for! Come and join us! It's going to be a blast!